26/11/2022 11:00 › 15:00
Invitation to the 26/11/22 "Health & Protection Day"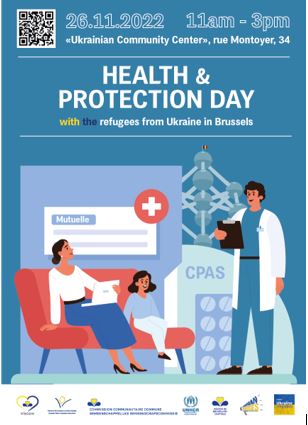 On November 26th, the Commission communautaire commune (COCOM), Iriscare, Platform sante mentale, UNHCR and Ukrainian Voices are organizing an information session - Health and Protection Day.
This information session will take place at the Ukrainian Community Center at 34 rue Montoyer, from 11:00 to 15:00.
The following topics will be discussed at the information session:
🔹 HEALTHCARE SYSTEM IN BRUSSELS
- How to get medical care in Brussels?
- How to register in a medical institution in Brussels as an expatriate
- Doctors and medical specialists in Brussels
- Women's health care in Belgium
- Children's health care in Belgium
- How to make an appointment with a doctor
- Access to prescriptions and medicines
- How to access emergency ambulance, hospitals, pharmacies, etc.
🔹 MENTAL HEALTH
- Mental health centers that provide counseling, day
care and inpatient care.
- Psychiatric hospitals for patients with mental illness
conditions.
- The offer of the charity organization The Community Help
🔹 SOCIAL PROTECTION
- Access to Mutuelles (composition and rules of use)
- Information on access to financial assistance for the elderly.
- Family benefits (financial assistance for children) and access to
to family planning centres (for all issues related to relationships, emotional or sexual life)
- Benefits and access to accommodation centres for people with
disabilities.
- Means of transportation for people with disabilities.
- Financial assistance to get around Brussels (STIB);
The final version of the agendas will be sent to you in the next email.
If you want to participate kindly find registration link below:
https://docs.google.com/.../1FAIpQLScDfnrJ7Ui7yH.../viewform
Registered or not registered, you are all invited.
We would be very grateful if you would post information about this event in your social networks, social groups, websites and information desks.
In the attached files you will find promotional materials in English and Ukrainian that you can use.
Furthermore , if you need posters, you can pick them up at the Community Center or request our volunteers to arrange delivery for you.