Looking for a job
Employment/Training
Looking for a job

You have left Ukraine because of the conflict and you want to work in Belgium? Actiris is there to support you in your search for a job or training! In Belgium, the 3 regions are responsible for employment. Thus, Actiris, as the Brussels Regional Employment Office, is a public service and the main player and solution provider for employment solutions in the Brussels-Capital Region.
- If you are staying in the Brussels-Capital Region, you are asked to register at an Actiris office. You can find more information about working and living in Brussels here.
- If you are staying in Flanders, you are asked to register at a VDAB office. You can find more information about working and living in Flanders here.
- If you are staying in Wallonia, you are asked to register at a Forem office. You can find more information on working in Wallonia here.
By registering with Actiris, you can, like all job seekers, benefit from Actiris' services and advantages as well as its extensive network of partners.

Stimulating your job search
Actiris stimulates and guides you in your job search through :
- Information sessions: once your registration is complete, you will automatically be invited to a collective information session with Ukrainian translation to present our services.
- A consultant and a career plan: a personal consultant is assigned to you and will develop an individual action plan with you.
- Network of partners: Actiris has developed a whole network of partners to best meet the needs of the employment market. Language training, obtaining diploma equivalence, support with child care, access to co-searching groups, tips and tricks for your job search, etc. Your counsellor will guide you to the partner best suited to your needs.
- Training: for many people, training is the fastest way to a new job. With Actiris, you can follow free training courses and we also work together with you to find the training courses that are best suited to you.
- Employer network: Actiris helps employers in their search for new employees. If an online job offer perfectly matches your profile, Actiris will be the first to discover it! Some employers have already made their vacancies more accessible to newcomers by including a #welcome hashtag in their job offers.
Your registration with Actiris is completely free of charge and gives you access to all information concerning employment in Brussels.

Your job search
We have an online job search tool My Actiris. By creating an online profile on My Actiris, you can not only fully manage your file and stimulate your job search, but you can also find many interesting job offers.
If the job offers you receive are not suitable for you, you are free to reject them and refine your search. Please note that the more complete your My Actiris profile is, the more tailor-made job offers you will receive and the more likely you will be matched with an employer.

How to register with Actiris?
Once you have obtained your Annex 15 document or your A card, you can register at Actiris. Here are the steps to follow:
Step 1: Temporary protection certificate
If you were permanently residing in Ukraine, and you left the country to escape war from 24 February 2022 on, you may be entitled to temporary protection. First of all, you must report in person at the registration center of the Immigration Office and a 'temporary protection certificate' will be issued if the conditions are met.
Step 2: Annex 15 or A card
With the 'temporary protection certificate' you can register at the municipal administration of your place of residence. When you register, you first receive a document called 'Annex 15' and later an 'A card'. You need these documents to be allowed to work in Belgium. Attention: the A card is valid until March 4, 2023. This may be extended depending on the situation in Ukraine.
Step 3: Registration as job-seeker with Actiris
The next step is your registration with Actiris.
- By appointment
You can make an appointment at one of the 18 offices of Actiris or at the Astro Tower (Avenue de l'Astronomie 14, 1210 Brussels) by calling the free number 0800 35 123 (French or Dutch). You don't speak one of these languages? Then ask someone who speaks French or Dutch and who has a Belgian telephone number to assist you.
From July 2022, Ukrainian interpreters will be available at the Elsene and Saint-Josse agencies to facilitate your registration with Actiris. These agencies work from 9 a.m. to noon and from 2 p.m. to 4 p.m., but you can come only --by appointment.
- online via my.actiris.brussels
Do you already have a Belgian national number?
Then you can register directly online (in French or Dutch) via my.actiris.brussels.

Learn more about Actriris services:
Discover in the video below how Actiris can help you in your job search.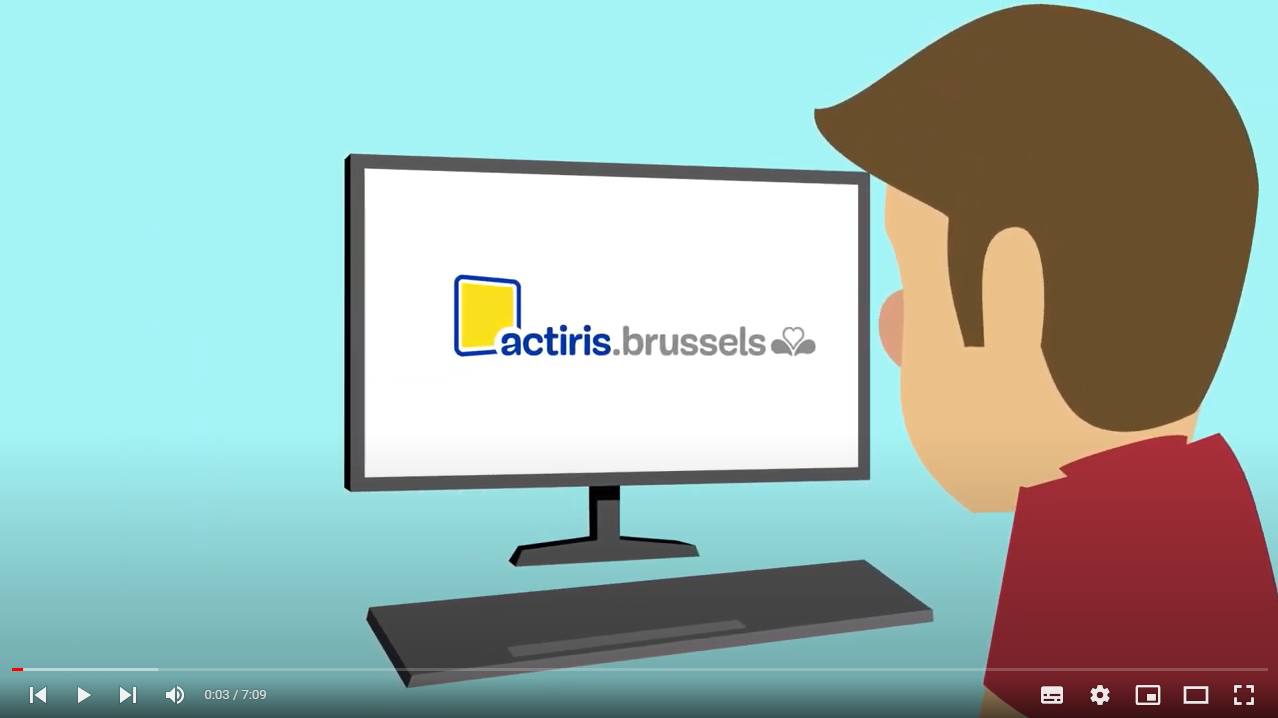 For more information, visit our website: www.actiris.brussels/en/citizens/actiris-for-ukraine
A series of frequently asked questions has been created to best meet the needs of newcomer jobseekers. This FAQ is regularly updated: https://www.actiris.brussels/fr/citoyens/news-faq-ukraine-ce/
A brochure has also been created to better explain the steps to follow when registering at Actiris. Download the brochure here brochure CE ukrainien US 01_0.pdf.
Actiris employees are also trained to help this group. Actiris teams are therefore ready to support refugees from Ukraine who are looking for a job.

Useful links :
Job offers: https://www.actiris.brussels/fr/citoyens/offres-d-emploi/
Website: https://www.actiris.brussels/en/citizens/
Actiris also has cooperation agreements with leading actors in the support and integration of newcomers:
Integration Programme for Newcomers in Brussels: https://bewelcome.brussels/en/welkom/
- Agentschap Integratie en Inburgering (BON): https://www.bon.be/
- Bureau d'Accueil pour Primo-Arrivants (BAPA) in Brussels: https://www.bapabxl.be/
- The Missions Locales and the "Werkwinkels" provide help on the employment market to people who need it.
- Federal Agency for the Reception of Asylum Seekers (FEDASIL): https://www.fedasil.be/fr