Searching for a translator or an intercultural mediator
Social translation/interpretation and intercultural mediation
Searching for a translator or an intercultural mediator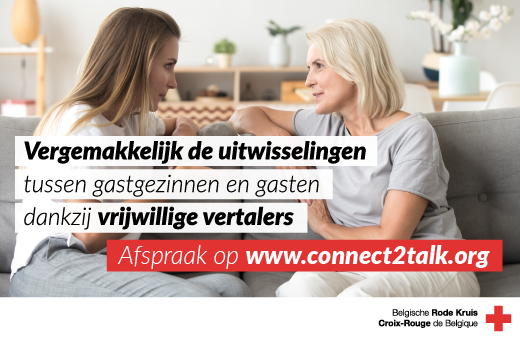 The language barrier can complicate exchanges between Belgian families and the Ukrainian families they host, sometimes creating tensions due to misunderstanding. In order to respond to these daily challenges, the Belgian Red Cross is setting up a tool to put host and host families in touch with volunteer translators who speak Ukrainian as well as French, Dutch, German or English, via videoconference. This platform aims to facilitate the sharing of questions or personal exchanges on themes such as the different perception of the daily way of life, of co-residence, the expectations of each other, the understanding of the duties and rights of each... The platform is therefore particularly aimed at the private setting.
One of the main problems on arrival in Brussels is the language barrier. It is difficult for many Ukrainians to understand how to proceed or what to do without understanding what is being said around them.
For this reason, the Samu Social and other reception centres are actively seeking Russian and Ukrainian-speaking interpreters. If you know one or you are one yourself, do not hesitate to help by contacting them.
For example, certain services in this area are available:

› Intercultural mediation - carried out remotely – in healthcare (for general practitioners
› Social translation and interpretation
In response to the influx of Ukrainian newcomers to Brussels, a number of Community Centres of the Flemish Community Commission (VGC) are working with the Agency for Civic Integration (AII). Three HUBS have been established from which to work together locally, focusing on the needs and contribution of the local Ukrainian community, the expertise and network of AII, and the community centres.

The hubs also offer weekly on-duty desks where someone is present to help with personal requests for information. These support staff can assist Ukrainian people in finding answers to their questions and they are welcome to drop in without an appointment.
In Sint Pieters Woluwe: Hub in Community Centre Kontakt: Orbanlaan 54, 1150 Sint-Pieters-Woluwe, email: ⦁ kontakt@vgc.be, tel.: +32 (0)2 762 37 74 On-duty desk on Fridays from 9am to 12.30pm.
In Anderlecht: Hub in Community Centre De Rinck: Dapperheidsplein 7, 1070 Anderlecht, email: derinck@vgc.be, tel.: ⦁ +32 (0)2 524 32 35 On-duty desk from Tuesday 28 June in Community Centre De Rinck and then every Tuesday from 9am to 12.30pm
In Koekelberg: Hub in Community Centre De Platoo: Pantheonlaan 14 or Dapperenstraat 20, 1081 Koekelberg, email: ⦁ deplatoo@vgc.be, tel.: ⦁ +32 (0)2 412 00 50 On-duty desk from Thursday 7 July and then every Thursday from 9am to 12.30pm.